[GP Copy] Feline Whole Body Support by Standard Process | Support Your Cat's Body Naturally
Feline Whole Body Support Benefits:
Packed with super-foods and vitamins like A, C, and E
Supports a calm and confident mood
Helps prevent infections in upper respiratory system and eyes
Great to supply complete nutrition especially stray or "feral" population
Increase health and lifespan of senior cats
Corrects periods of malnutrition
Outstanding source of complete vitamins the way nature intended
Easier to absorb natural forms of vitamins and minerals
Dr. Candy And Other Holistic Veterinarians Use Feline Whole Body Support Supplement In Cases Of :
Kittens
Senior cats (especially during stressful times)
Post-op recovery
Lost, rescued, adopted pets
Poor coat
Progressing emotional and bullying situations
Chronic diseases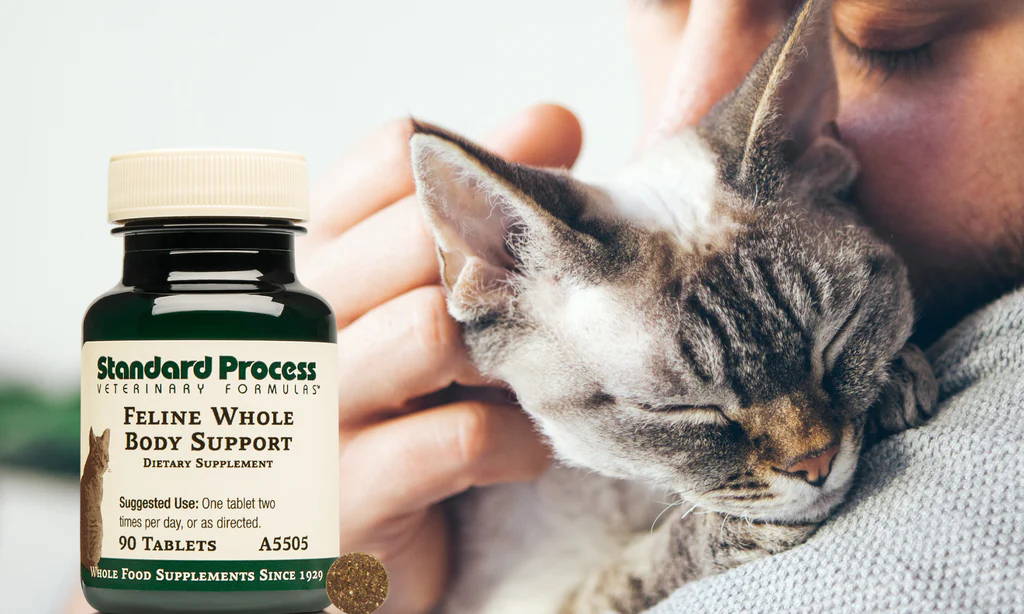 Dr. Candy's Pro-Tip: This product covers such a broad spectrum of nutrients that it can be used in almost any situation. I have observed major improvement in health and weight gain with orphaned and bottle fed kittens.
More About Feline Whole Body Support:
Provides general multi-system support for daily maintenance of all body systems with emphasis on a healthy endocrine system
Is an excellent nutritional foundation for use with all other system-support formulas
Daily supplement for any patient
Growing animals
Performance/working animals
Endocrine system support
Senior animals
The feline patient should receive one tablet two times per day, or as directed.
Feline Formulas Can Be Administered In A Variety Of Ways, Including:
Whole tablet or crushed
Dosed directly or mixed with food
Cautiously, as a powder suspended in water given by oral syringe
To familiarize the cat with the supplement, it may be helpful to place one tablet beside the food bowl for two or three days prior to mixing the tablet with the food.
Feline Formulas Can Be Administered In A Variety Of Ways, Including:
The feline patient should receive one tablet two times per day, or as directed.
Ingredients: Each Serving Size (1 tablet) contains: Bovine liver, organic dried alfalfa (aerial parts) juice, bovine liver PMG™ extract, bovine trachea, bovine bone, bovine heart PMG™ extract, bovine spleen, ovine spleen, L-glutamine, amla extract, rice (bran), porcine jejunum, bovine kidney PMG™ extract, bovine kidney, oat flour, bovine adrenal Cytosol™ extract, nutritional yeast, organic dried pea (vine) juice, organic dried buckwheat (aerial parts) juice, organic buckwheat (seed), bovine orchic Cytosol™ extract, chromium yeast, green-lipped mussel (Perna canaliculus) (shellfish), organic dried swiss chard (beet leaf) juice, organic beet (root), zinc rice chelate, L-carnitine, organic dried kidney bean (aerial parts) juice, defatted wheat (germ), inositol, choline bitartrate, enzymatically processed Spanish moss (Tillandsia usneoides), and beet (root). Other Ingredients: Honey and calcium stearate as tableting aids.
Minerals: Sodium (max) 5 mg / tablet, Zinc (min) 180 mcg / tablet, Chromium* (min) 5 mcg / tablet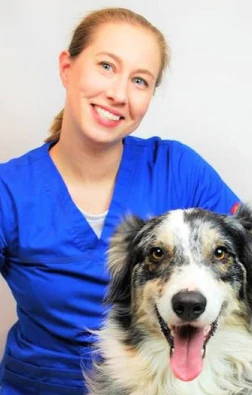 Holistic Veterinarian, Veterinary Clinic Owner, Veterinary Medical Supervisory Board Leader, Certified Raw Dog Food Nutrition Specialist, and Author Dr. Candy completed her undergraduate studies at The University of Delaware and graduated veterinary school in 2009 from Oklahoma State University. In high school, she was drawn to wildlife rehabilitation. Wildlife rehab gave her unparalleled experience in animal healing in a field that has limited resources and a wide variety of conditions to treat. Before vet school, Dr. Akers spent two years working full time providing oil spill response for wildlife all over the country. Since graduating with her Degree of Veterinary Medicine (DVM) in 2009, Dr. Candy has specialized in companion animal nutrition. Extensive education in nutrition has made her a firm believer in species specific-biologically appropriate diets. One of her passions is educating pet parents about the natural alternatives that actually work. She brings the best of holistic health and conventional medicine together in a unique approach to pet health. This approach is often applied to chronic diseases, allergies, and autoimmune conditions. She started her own veterinary practice 9 years ago in Colorado. Overall, she has dedicated her entire life to improving the health and happiness of animals everywhere.