Alternatives To Traditional "Closed Cabinet" Saunas- Dis/Advantages
Infrared Sauna Blankets / Sauna Bed:
An infrared sauna blanket is a portable blanket that heats the body directly with infrared radiation. An infrared sauna blanket wraps over and around your body like a heated sleeping bag and plugs into the wall. It runs between 120 and 140 degrees Fahrenheit, giving a more comfortable experience than a steam sauna.
Infrared saunas generate deep sweating, which releases toxins stored in the skin. Infrared rays heat the body with dry heat, simulating a sweat session.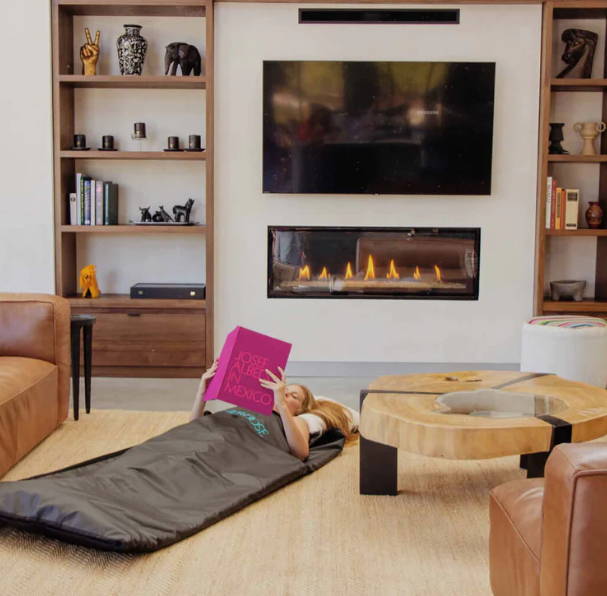 Increasing body heat
Relaxing
Improving skin by releasing toxins and encouraging collagen
Increased blood circulation
Releasing endorphins, which can relieve pain and muscular discomfort.

Reducing post-workout inflammation and muscular soreness
Improving sleep by releasing serotonin.
A sauna blanket helps your skin cleanse itself of microorganisms and dead skin cells
Some people are sensitive to heat and can feel headaches, vertigo, or dizziness. It is recommended to use at 120 degrees and for shorter periods if you are new to them. If you have a cardiac issue, high blood pressure, or are on blood pressure medicine or diuretics, check with your doctor before using.
Unlike a typical sauna, you shouldn't undress before using a sauna blanket. You can wear moisture-wicking long pants, a long-sleeved shirt, and socks. Wearing clothes in the sauna blanket makes cleanup easier and protects your skin from sweat.
Look for a blanket constructed of strong, waterproof PVC. Consider temperature range, timer settings, and distinct heating zones, which can be heated and timed separately.
How Do Sauna Blankets Work?
The best infrared sauna blankets simulate a sauna by encircling your body and creating spa-grade infrared light to enter your skin and produce sweat.
Wear comfy clothes and socks.
Place the sauna blanket on a heat-resistant surface. Massage or yoga mats can help.
Heat the sauna blanket ahead of time by dialing in the preferred temperature.
Climb in and zip your sauna blanket.
Set a timer for 30-45 minutes and relax!
Take a cold shower to clean your skin, calm your system, and speed healing.
Super Easy & Comfortable To Use
All The Health Benefits Of Sauna Therapy
Sauna Suits - Leggings, Vests, Jackets
A sauna suit retains heat while exercising. Neoprene suits resemble wetsuits. You can choose full-body suits, or upper/lower body separates.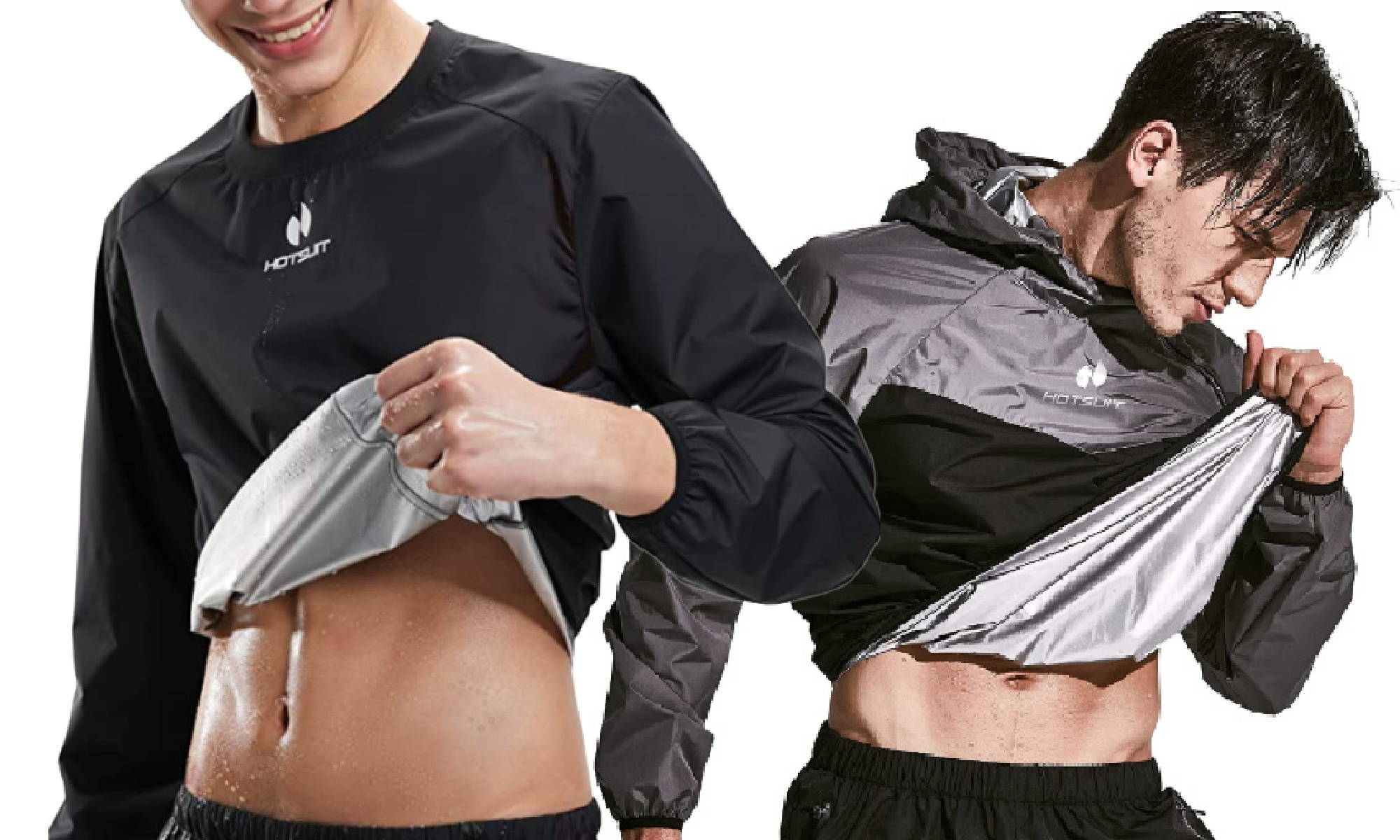 Maintains heat and burns calories.
Accelerates calorie burning and firms your legs and stomach.
No odor or skin irritation.
The elastic waistline and cuff-off design keep your body heat in and raises your temperature quickly
Some side effects can come from the use of sauna suits such as:
Dizziness
Fatigue
Headache
Perspiration
Nausea
Slower heartbeat
Today's best sauna suits are made from lightweight fabrics that allow you to freely walk, run, lift, and hit a heavy bag. Hootsuite is the best sauna suit. A hooded jacket and track leggings are included. Junlan sauna jackets for women are constructed of silver polymer fabric.
Multiple sizes/colors
Reduces bloat
Jacket and pants included
Soft and odorless
Lightweight
Sauna suits trap body heat and raise body temperature, which encourages sweating. You typically wear a suit for no more than two hours.
What Do You Wear With One?
Wear close-fitting, moisture-wick undergarments such as briefs and sports bras under your sauna suit. Regular exercise can trap heat and sweat more than usual. Sauna suit designers say wearing the garment boosts workout intensity without increasing effort.
This suit is easy to put on and is not super tight. A super tight sauna suit could impact blood flow to your body, and can restrict your movement.
Grab your HOTSUIT and enjoy the health benefits including:
Lose weight quickly
Detox your body
Warms muscles
Relax muscles
Increased circulation
Steam Sauna / Steam Showers
A steam sauna is a sauna with a boiler that creates steam. Some manual steam rooms use hot stones and boiling water to generate steam. The space heats up to 100 to 115 degrees Fahrenheit and reaches 100% humidity.
A steam shower is an enclosed, moisture-sealed shower that delivers steam before, during, and after showering.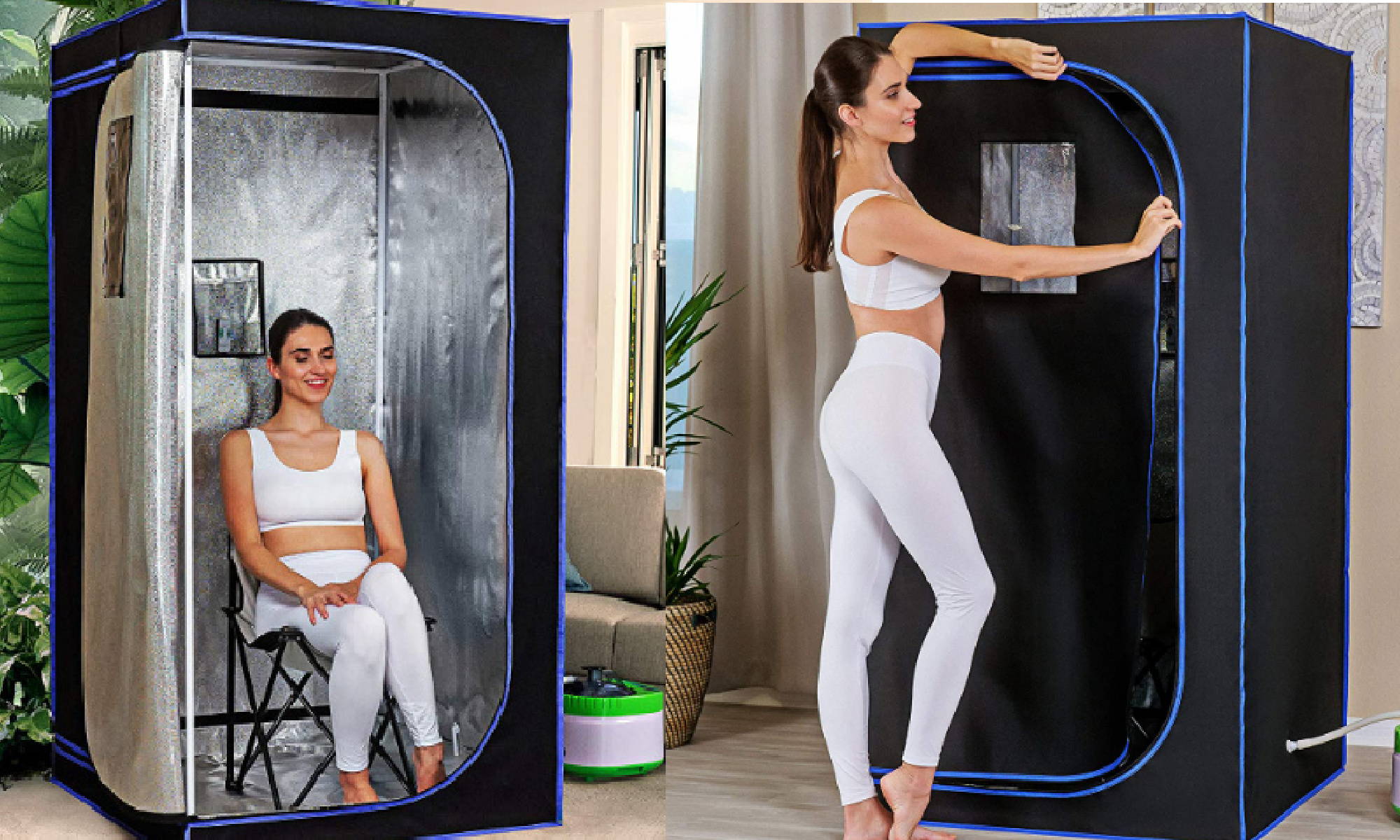 Steam showers are $300-500 and are quick to set up.
A steam room costs about $43 per square foot to create.
Better circulation lowers blood pressure and helps the heart.
It promotes skin healing by opening pores.
It can reduce blood pressure by releasing aldosterone.
Reduce cortisol production and modulate stress.
Warm mucous membranes and encourage deep breathing. Using one helps relieve sinus and lung congestion.
Heat treatment allows athletes to recover from workout pain.
Loosens joints.
Improve immunity like other hydro therapies
If you're feverish, avoid the steam room.
Steam rooms dehydrate you after 15 minutes.
Some species of bacteria aren't killed by steam, and the warmth may increase their population.
Avoid the steam room if you're pregnant, immune-compromised, or recovering from surgery.
To prevent mildew growth, a steam sauna needs to be made of a non-porous material
Cold water pumped into a steam generator is heated to boiling and sent to the shower stall. Digital controls in the shower let users modify steam temperature and duration. You can also pipe in scents, lighting, and music.

Easy access sit-in steam sauna

Collapsible design for easy assembly and disassembly




Energy Efficient



Includes sauna chair

With a sauna tent, you can stay warm in any season, especially winter. Sauna tents are super relaxing. They are usually heated to about 100C (212F) can relax you.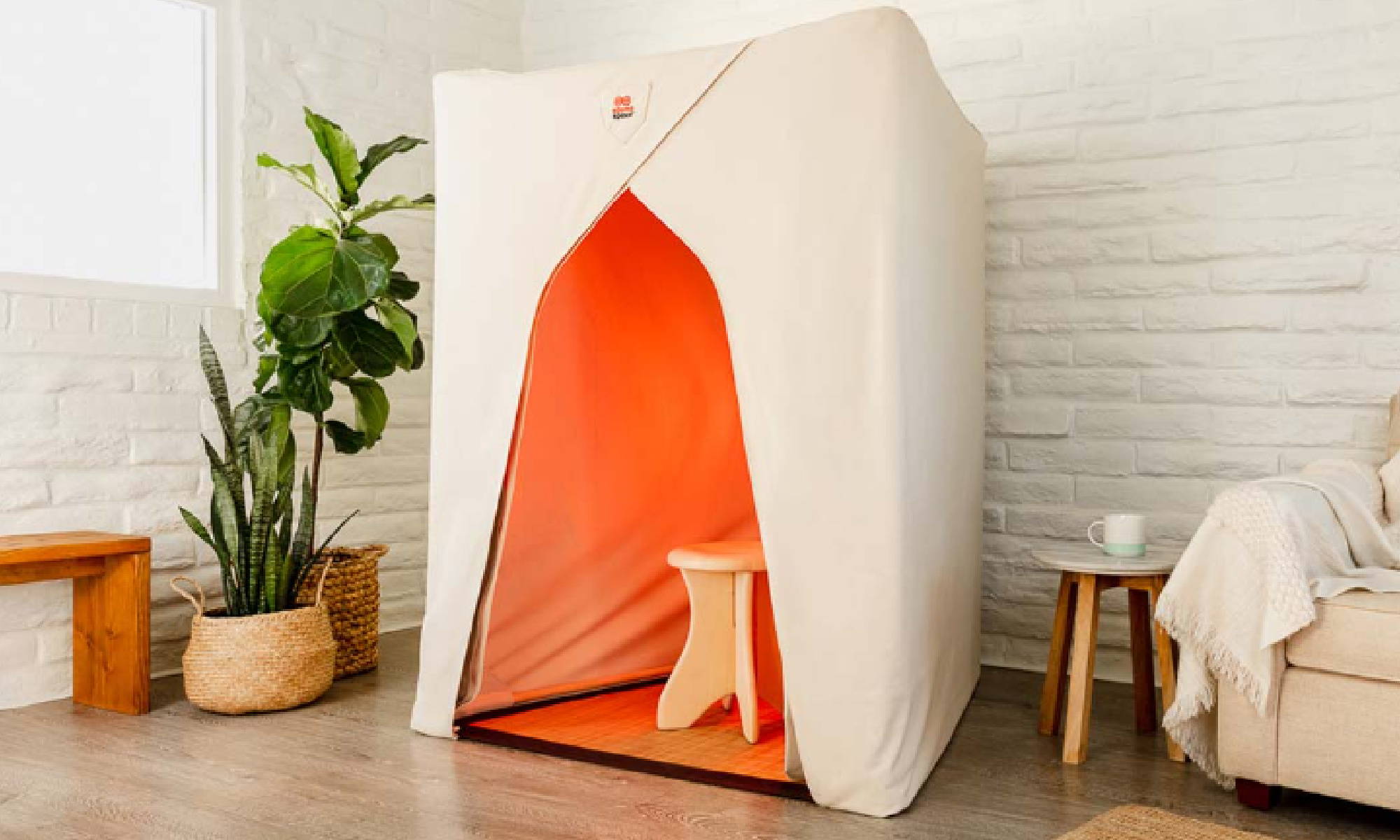 With a sauna tent, you can stay warm in any season, especially winter. Sauna tents are super relaxing. They are usually heated to about 100C (212F) can relax you.
The sauna tent bundle includes a tent and a wood furnace. The smallest one weighs 25 kg (55 lbs.) and fits in a car trunk. These sauna tents assemble in 5 minutes.
With a sauna tent, you may experience spa time, anytime. It's also a storage box, changing room, and camp restroom.
The transparent window provides an open view and can be opened to breathe fresh air.
The tent is 31.5 "x 31.5" x 55.1", giving a room for 1 person.
The two-headed zipper and twin pockets allow easy access.
ThermaLight® technology helps you sweat faster, more effectively, and at lower temperatures than the competition. Take your health and wellness to new heights with a ritual space that fits into tight quarters and busy schedules
Compact and portable
Hypoallergenic
Tool-free assembly
Wheelchair accessible
Machine-washable cover
The portable sauna steam minimizes muscular discomfort and also helps to improve the circulation of blood through moist heat.
A sit-in' sauna design comes with hand-access zippers so you may use your phone/read a book/magazine.
They soothe achy muscles, help prevent fatigue, and detox the system.
They can improve the metabolism process and blood circulation.
Easy to use
The portable sauna steamer box tent contains a 1600-watt high-power heating element and can reach 122°F/50°C. Wired timer/auto-heat controllers are included. This personal infrared body steamer sauna comes with a comfortable/foldable sauna chair that can be easily assembled/disassembled, unlike other detox saunas.
It has a remote control, foldable chair, and timer for portable and convenient personal health, detox, weight loss, fatigue & stress relief. It has convenient hand-access zippers for book/magazine reading and a wired controller for timer & auto heat setting. This personal home spa sauna burns fat and makes you sweat and lose water weight. To start the process, you pour the water into the steaming device and then plug the device into a standard electric outlet.
Made with Natural Bamboo Materials

Natural Tourmaline Stones for maximum heat transfer and Negative Ion releaseSpace saving design fits in any room



Affordable price for health-boosting benefits
Great for Immune enhancement & promotes overall health and wellness
The FAR infrared dome system provides a powerful, far infrared treatment. Crushed tourmaline stone discs generate FAR infrared heat and beneficial negative ions inside the dome.

Cleansing
Detoxification
Reduces cortisol
Burns calories
Boosts immunity
Increases blood oxygenation
Infrared induces sebaceous gland sweating, which expels toxins better than a hot air sauna so that you can spend more time inside. FIS heats the body, allowing you to sweat out 7 times more toxins than traditional saunas. Because your head is outside the sauna, you can spend more time there.
This far infrared sauna dome is an ideal choice for infrared heat therapy or to combine infrared with ozone. Materials are ozone-compatible.
Modified to be ozone-compatible
Easy to use ozone port
Perfect for home or spa use
Body mat is water proof
Help improve the flow of blood and oxygen throughout your body.
Help to reduce stress and improve the quality of sleep.
Help reduce inflammation as well as joint and muscle pain.
Help to improve the body's immune system naturally.
PEMF layer to mimic the earth's healing vibration
Infrared heat layer to promote full body detox
Non-Toxic PU Leather that is water-proof, fire-proof and melt-proof
Charcoal to bind pollutants and Clay to emit negative ions and balance heat
A medical-grade magnet to improve blood flow and circulation
Amethyst and tourmaline to naturally fight free radicals
Using a PEMF (Pulsed Electromagnetic Field) Mat aids in the healing process by sending electromagnetic waves through your body. Sinc these waves are emited in low-frequency bursts, similar to the ones found in nature, they are significantly less harmful than the electromagnetic waves found in x-ray machines and microwaves.
The Infrared PEMF Mat combines two powerful healing technologies to create the ultimate recovery tool. PEMF grounds you in earth's magnetic field for a full-body reset, while Infrared's deeply penetrating heat doubles your dose.
Reduced stress
Increased energy
Better sleep
Improved circulation
Improved muscle recovery