Okra Pepsin E3 - Standard Process- Painful Stomach Ulcer Relief
Okra Pepsin E3 By Standard Process Benefits:
Natural stomach ulcer remedy
Full-spectrum, highly active vitamin E
Relieve painful ulcers in your stomach
Naturally heals the cells lining the digestive tract
Coats stomach to prevent ulcers before they start
Helps maintain normal digestion during stressful events
Complex fibers feed the good bacteria
Removes inflammation in the gastrointestinal system
Reduces blood sugar spike for diabetics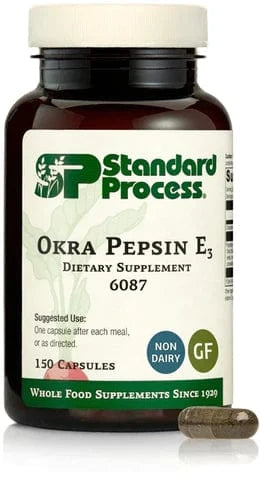 Dr. Candy's Pro Tip:
Okra contains proteins that feel a bit 'slimy'. The gel soothes and covers the lining of the stomach where ulcers occur. This is an excellent natural anti-ulcer food and can really help people with acid reflux aka heartburn.
About Okra Pepsin E3
Okra Pepsin E3 supports intestinal function.*
Supports mucosal tissue in the intestines
Supports bowel function
Provides bowel cleansing*
Supplement Facts
1 capsule contains:
Cholesterol <5mg (2%)
Proprietary Blend 215mg - Okra (fruit), fat soluble extract (from sesame [seed], alfalfa [aerial parts], sunflower [seed], carrot [root], Spanish moss (Tillandsia usneoides), organic buckwheat [aerialparts] and organic pea [vine]), pepsin (1:10,000), alginic acid, carbamide, and bovine orchic extract.
Other Ingredients: gelatin, cellulose, water, calcium stearate, and d-alpha-tocopherol (vitamin E sunflower).
Contains NO: gluten, dairy. This product is processed in a facility that manufacturers other products containing soy, milk, egg, wheat, peanut, tree nuts, fish, and shellfish.

Recommended Use: Adults - One capsule after each meal, or as directed.

Warning: If you are pregnant or nursing, please consult your healthcare professional before using this product. Keep out of the reach of children.
Related Products
Gastrex