Infrared Sauna For Back Pain- Doc Says Repair & Relieve
Tired of suffering from Back pain? Here's something that can bid farewell to all sorts of back pain!
With our increasing dependency on technology such as smart phones and computers, we have also seen an increase in some health issues especially concerning back pain. Back pain affects every age group and is a common health problem among the middle-aged and elderly.
Most people spend over half of their days using phones or laptops without paying heed to the major health risks that can lead to cervical and back pain issues. If we take a look at current data, it suggests that back pain is the major reason for sick-leave taken by office workers.
There are many steps people can take to fight back against this pain such as patches, and pain killers but have you thought about how an infrared sauna might help? The thing that sets infrared saunas apart from other solutions is its advanced and soothing technology. Infrared sauna radiation can heal your muscles in a way that no other device can compete with.
With these types of saunas, the body is heated by infrared light waves. The warmth that the sun offers is also produced by infrared light waves, which are the short light waves. So how are these wavelengths produced by infrared saunas? Well, an infrared sauna is equipped with ceramic and/or carbon panels as opposed to traditional saunas, which have heating components like wood and stones that are heated before water is put on top to warm and steam the air inside the room, and then finally, your body. Instead of increasing the temperature of the air around you, which subsequently warms your body, these panels produce those short infrared wavelengths that are easily absorbed by objects that contain water, like your skin.
80% of Americans currently suffer from back pains due to long hours of bad posture or an unhealthy lifestyle. The radiating pain can have detrimental affects on your life in different ways, often preventing them from quality time at work, with friends, family travelling, and more.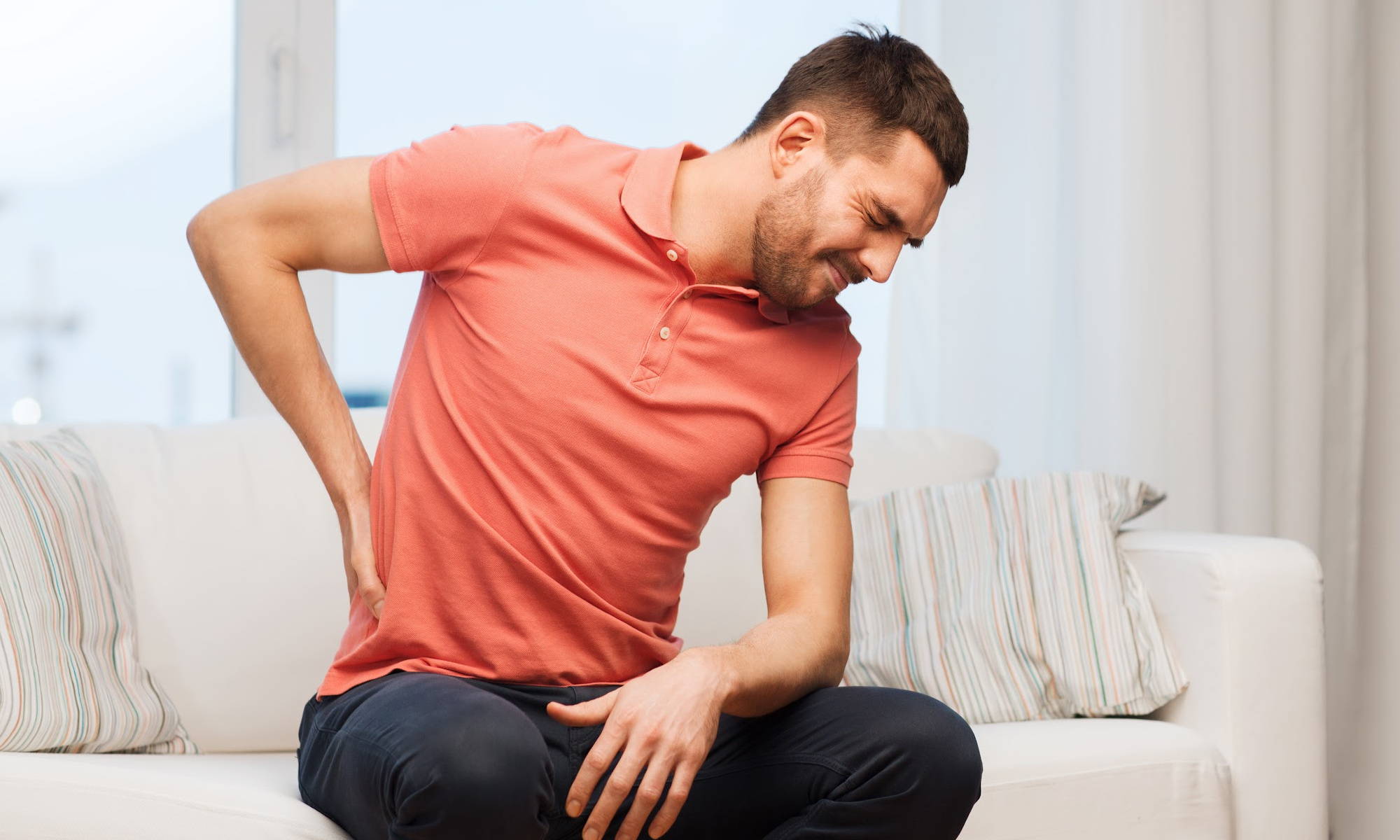 What Are Conventional Treatments for Back Pain?
As mentioned earlier, people have been using many different to methods to relieve back pain. These include cortisone injections, NSAIDs, and other pain-relieving medicines as a solution.
Some medications that are widely used for back pain include:
You may see some elements on this list that surprise you. We know that some of these are essential minerals that we need to support healthy living. They are often included in vitamins and supplements and have beneficial roles in our whole-body health.
However, while small or average amounts of these substances are good for our health, large amounts of exposure can lead to problems.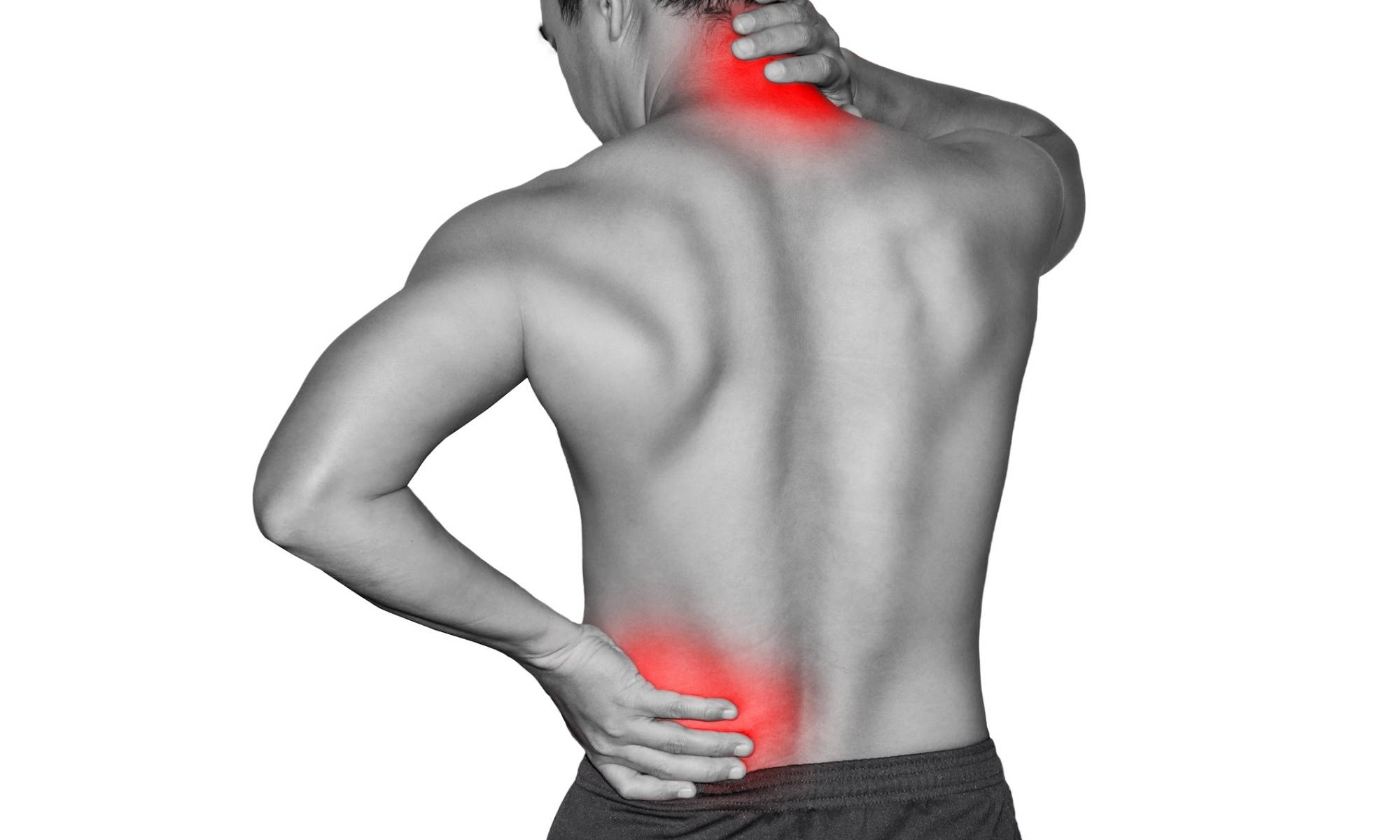 Natural Treatments for Back Pain
We want a treatment that is not only natural but also provides long-term benefits. For these reasons we use an infrared sauna.
Research was carried out on the effects of infrared saunas by a medical university in New Jersey. It was observed that low-level heat therapy was found by researchers to be more efficient than over-the-counter oral medications, including acetaminophen, Ibuprofen, and others.
After using the infrared sauna, it is recommend to stretch out gently to strengthen the muscles and ligaments in the troubled areas. Stretching after using an infrared sauna has been shown to promote flexibility over the long term, which is something your back muscles and ligaments need.

Benefits Of Using An Infrared Sauna As A Treatment For Back Pain
People usually use OTC (over the counter) medicines to provide temporary relief for back pain. The gentle heat of the sauna relaxes the muscles and boosts collagen formation too.
You can also go for other alternatives as well for acute back pain like muscle relaxants and topical relievers but nothing works better than saunas for chronic back pain.
Relaxes and Helps Strained Muscles
Strained muscles are the most frequent cause of chronic back pain. Nothing beats heat for providing quick relief. When you need pain relief the most, it's a smart choice to have persistent heat that can be provided by an infrared sauna.
Boosts the Flexibility of Muscles
When muscles become stiff it often results in reduced muscle mobility.
Using an infrared sauna can help your muscles to loosen and the tissues get a chance to regenerate and heal up a bit. If you can't move without pain then it is indicative of muscle stiffness and weakness. Using a sauna can help your muscles get a new life.
After all, saunas come in a wide range of sizes and styles and their hype is due to the excellent results.
With saunas therapy you will feel relief even even after the first session. It is observed that after just one sauna session, people tend to have a much better and more peaceful sleep because it minimizes the pain in no time.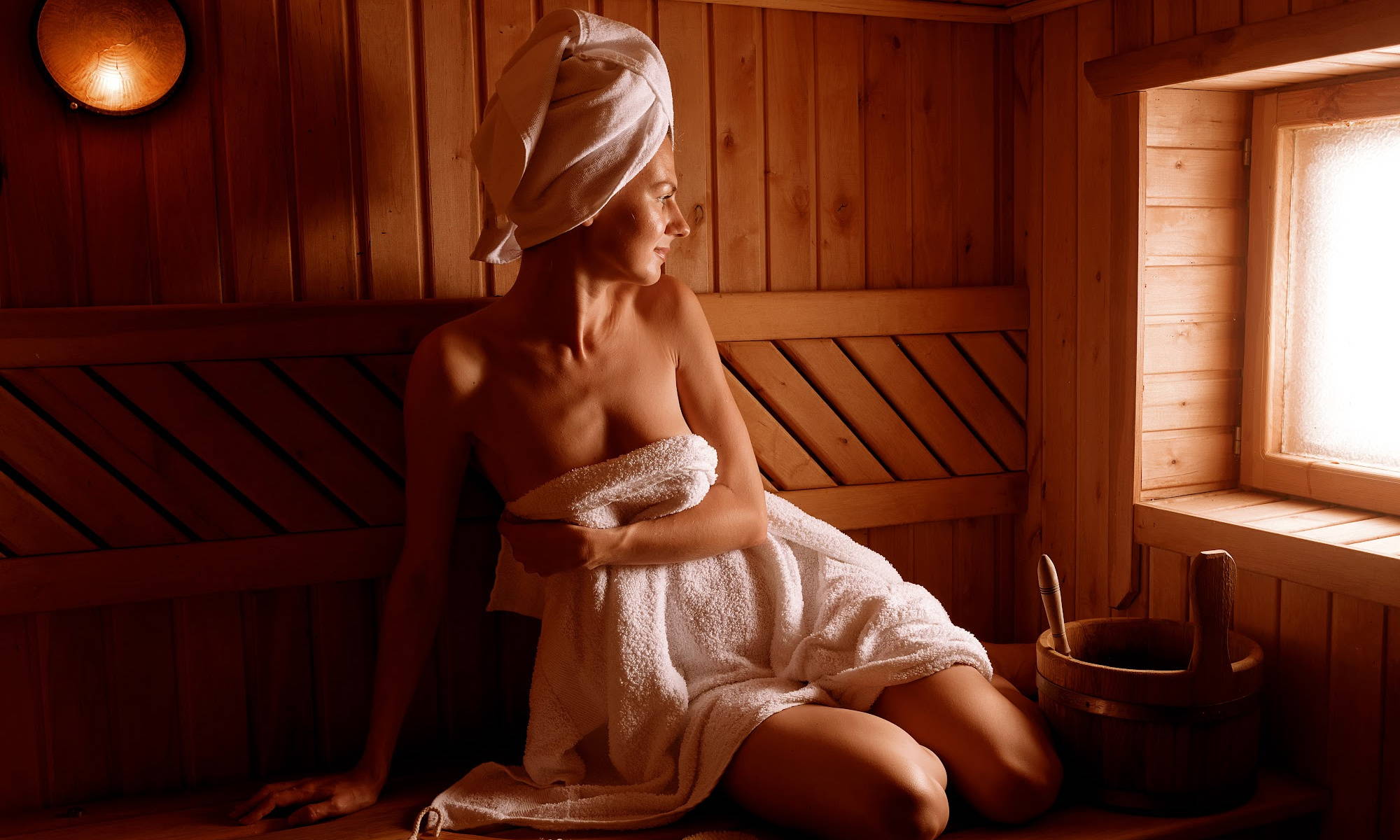 How Long Does It Take to Get Rid of Back Pain Using a Sauna?
The duration of pain-relief depends on the intensity of the pain and how long you use the sauna. Usually, it takes one or two sessions.
How Long Should You Stay In the Sauna?
The length of time one should stay in the sauna session varies from person to person. Usually those who have a chronic issue could use the infrared sauna for 40 minutes to an hour.
Doctor recommendations also vary. A suitable session duration, according to Dr. Candy, is between 30 and 40 minutes. You can work your way up to that. The sessions must be consistent for at least a month.
If your pain subsides, use the sauna as often as needed, preferably at least three times a week.
According to clinical studies, back pain and discomfort can be lessened with the consistent use of infrared saunas. Moreover, infrared saunas have proven to be low risk.
The warmth of an infrared sauna works similarly to muscle relaxers which is why they often compare the two. However, the use of the sauna does not involve the need for any medication.
Depending on your level of pain, use the sauna between 30-60 minutes, about 3 times a week. The benefits of infrared sauna therapy go beyond back pain relief. There are many health benefits that can help you feel like a brand new you!

Dr. Candy's Recommendations
Best Infrared Saunas For Back Pain
Both of these are top choices for a home infrared sauna for various causes and form of pain. They both heat up super fast so that you can experience pain relief ASAP. They both provide a safe but strong dose of infrared energy to get that benefit of whole body pain relief.
What I Like:
Quick heat up for fast pain relief
Extra foot heater fights infections and improves circulation
Easy assembly with labeled clasp technology
Internal lights
Limited time free shipping


Dr. Candy Also Recommends....
Patients rave about this piece of technology. As a doctor, I have been using red light therapy for healing for almost 10 years, but the quality of this pad or wrap is phenomenal. I have also compared 20+ competing products and this one outshines them all.
People with RA, arthritis or any chronic pain condition can greatly benefit from using this at home. More convenient than a massage bc this can be worn anywhere! You can wear it while you work at your desk, or relax at home. And a short therapy session can relieve your pain FAST.
One patient said:
"I mostly purchased this for my shoulder and back. I believe it is helping not just with pain but also mobility. I am guessing it's taking some swelling down for easier movement. I think with continued use I will keep getting better and better. The warmth of the wrap feels so good and really feels like I'm pampering myself."
( Verified Purchase - October 17, 2022 )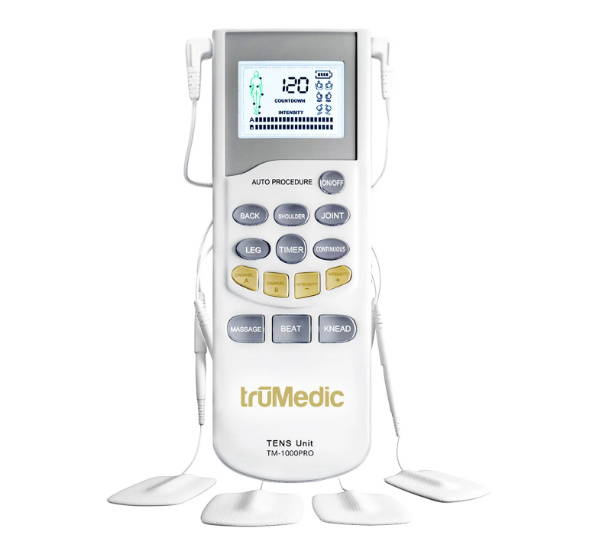 TENS units are a well-known way to reduce pain. There are a ton of poorly made pieces of junk from China on the market. But a high-quality device, using scientifically driven technology, is a proven tool to have in your "healing toolbox".
This device is made by TruMedic, which is a well-known manufacturer of smart medical equipment. It has preset programs that you can choose based on your individual pain status. The ™-1000PRO Deluxe has 20 levels of intensity and allows more power output for extreme pain that small non-name devices cannot compare to.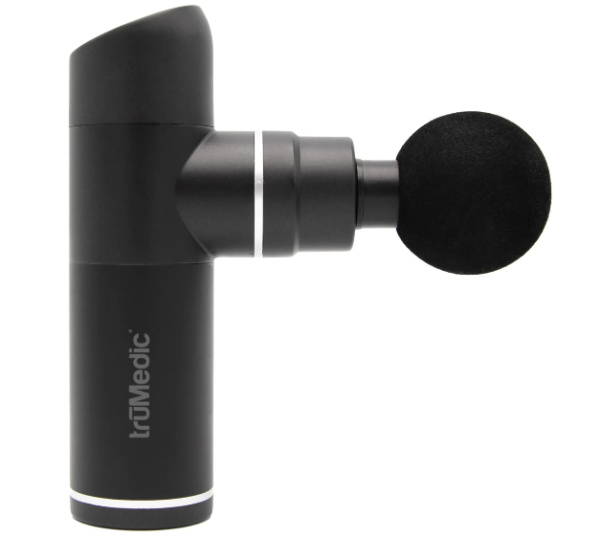 Another well-known way to relieve pain is massage. But I always have a hard time scheduling an appointment on the day that I need it. It's not like I plan on having pain, but life happens. These massage guns have been growing in popularity the last few years, and when my chiropractor added one to work on my back issues I really saw the benefits. I wanted to get one for myself at home, but they were so expensive. I also didn't want a huge device that I would have to hold up with two hands. All of these reasons make this product from TruMedic ideal for pain relief.
Lightweight but powerful
Cordless and rechargeable
Variable speed settings
4 Impact therapy heads
This massager does all of the same techniques as professional devices. Most professional grade massagers weight 2.2 lbs or more. This little baby weighs around 1 lb and is much easier for me to hold for treatments. I like to use it on sore muscles and tendons.